This is a trend that just keeps on giving. Layered pendants and necklaces. This is the perfect season to dig through your jewellery box and layer your necklaces. Follow our staff and their journey this week, to create their favourite layered pendants. Who's style do like? Which look suits you best? All of our looks are created to be worn with anything from a low t-shirt to a roll neck jumper. How will you wear yours?
Lyn's Picks
Lyn loves this look! The simplicity of the circles are so versatile. Lyn would wear this look in the daytime and in the evening. 9ct white gold and diamond.
Louise's Picks
Louise loves the Hot Diamond brand! A layered selection of silver Hot Diamond pendants. The pendants are all sterling silver. The bottom necklet is white Topaz. All set with a little diamond.
Paula's Picks
Paula loves the delicate look of the yellow gold and diamonds. This is a great statement piece for the smaller frame.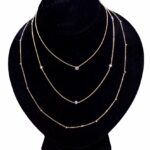 Kirsty's Picks
Kirsty loves a sentimental statement! This beautiful silver trio is the perfect mix of new and antique. A personalised engravable disc pendant from Gecko to top it off. Literally.
Keep an eye out for Ted! He will be back and even more mischievious than last year.