Gifts – photoframes, christening gifts and more
Sterling silver photoframes, children's christening gifts, letter openers, bookmarks, keyrings… The list goes on, although the thing they all have in common is a hallmark.
We also offer silver plated items including photoframes, christening gifts, trinket boxes, tankards and other gifts.
Cross Pens are important suppliers to our shop. We also offer a wide choice of barometers in a selection of different woods.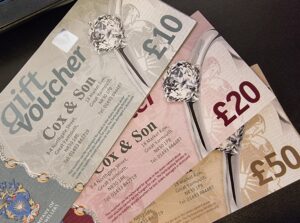 Did you know that we offer our customers a FREE GIFT WRAPPING SERVICE using bows that we have made ourselves?